Bill Thompson Loses To Michael Bloomberg In Tight Mayoral Race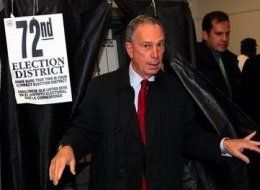 Someone mentioned election fraud.
When I voted yesterday, I discovered that the lever for Thompson wouldn't go down in the Democratic column. I had to call in an election worker who finally directed me to pull down the lever on the Working Families ticket. I protested, not entirely in jest, that the Bloomies had rigged the machine. If they didn't, someone should have made sure that the machines worked.
This, I thought, was beyond the pale and I intend to make a complaint to the Board of Elections today.
Read the Article at HuffingtonPost