Michele Bachmann Says Hurricane Irene And Earthquake Are Divine Warnings To Washington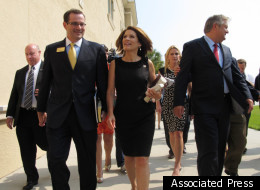 Michele and the other holy fools don't mention that there have been many earthquake
­s, hurricanes and other natural disasters before Irene and there will be many others after her. (Irene that is. I expect many other disasters after Michele as well!)
Primitive humankind including the early civilizati
­ons have had many stories about these attempts to placate its imaginary deities such as Abraham and Isaac, Jeptha, Iphigenia, etc. Have we not evolved at all?
I expected all this idiocy from Pat Robertson, but I forgot about Michele B, Ricky P. and the other Tea Partiers.
Please guys, just shut up!
Read the Article at HuffingtonPost